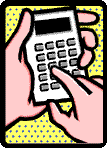 It all adds up!
We're an A+ Certified Service Center by CompTIA
A Microsoft OEM Reseller
An authorized Acer Reseller
An Okidata Reseller
A Xerox authorized reseller
A Printronix authorized reseller
An authorized HP Printer and Plotter reseller.
Lexmark reseller.
Panasonic Whiteboard reseller
Konica-Minolta printer reseller
An authorized Intel and AMD reseller
An authorized service center for Okidata, Panasonic, and Citizen
We're an authorized service center for nearly every 3rd-party warranty company, such as NEW, NWC, IDS, and VAC to name just a few.
We sell web hosting services - small and large
We have a huge 8000 square foot facility central to everyone on the Grand Strand
We have the biggest staff of personnel
We have the most qualified technicians
We have the best test and service equipment
We have a massive inventory of computers and computer-related parts in-stock at all times
And most importantly, we have the most satisfied customers!